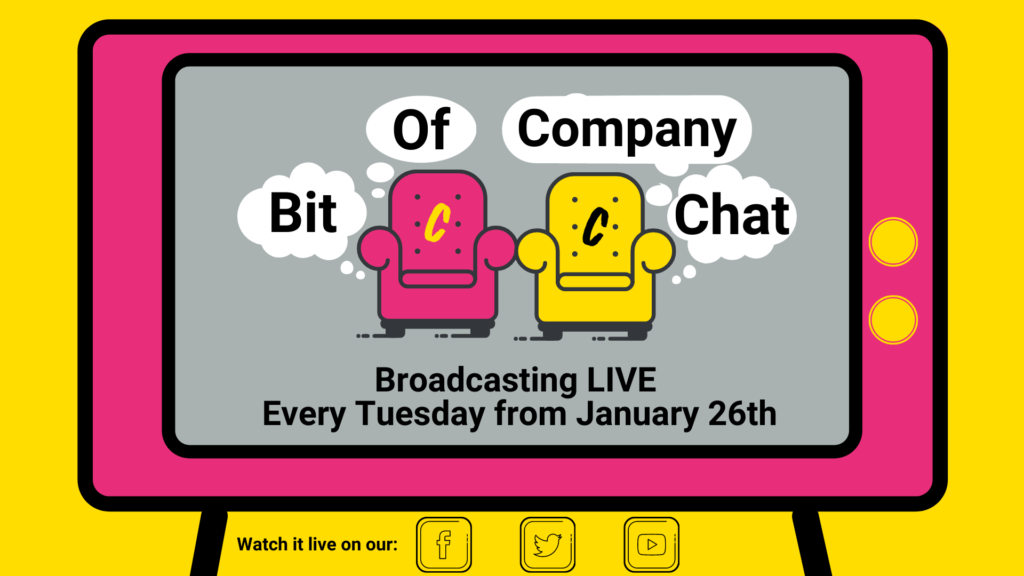 The Emerging Futures project was a collaboration between People's Voice Media and Camerados and gathered over 65 stories of people's experiences of the pandemic from across the UK. The project was funded by the Emerging Futures Fund, which was set up by The National Lottery to invest in the creativity of civil society and help amplify the voices of communities through stories, narratives, and public imagination projects.
Working with the existing Camerados involved in the #SpoonRoom (a virtual "public living room" where strangers support each other), stories of people's everyday experiences were gathered – exploring what matters in people's world and what life looks like from their perspective. The findings informed a set of 5 insight reports, highlighting key themes which had emerged from people's stories. These themes were then explored throughout an online chat show series – A #BitOfCompany Chat – which provided a platform for people to share and discuss experiences of the pandemic.
Isolation & connecting during the pandemic: 'Connection really is magic.'
As you might expect with stories from the pandemic, the themes of isolation and connection came up time and again. Between shielding, restrictions on household mixing and travel, and plain old 'social distancing' (we prefer the term physical distancing!), making connections with people since COVID-19 appeared in our lives has been increasingly difficult.
The stories on isolation and connection gathered during the project have taught us a few things:
Although not the same for everyone, isolation has had a negative effect on the mental health of many.
We should try to build relationships before people need you and you need them.
While online spaces aren't a replacement for face-to-face, for most they are better than the alternative of being alone and so technology needs to be accessible.
The rise in online events has actually improved accessibility for some folk and this shouldn't be lost post-pandemic.
We should do our best to keep these relationships going post-pandemic.
Here are some actions that emerged from the project to help boost human connection:
Get sending some letters – become a pen pal or simply post little notes on your neighbor's doors to spark a conversation.
Create spaces where folk feel able to just be themselves – that could be a Spoon Room, Public Living Room, street sing-a-long or taking over the park for a good old dance!
Look at where technology can help create connections – it could be street WhatsApp groups or websites like nextdoor.com.
Grief, loss & reflection during COVID-19: 'The Great Pause'
The pandemic has paused time for many of us, with some feeling that this is a positive and others a negative.
The stories on loss, grief and pause that folk have shared with us have revealed a few things that give us renewed perspective on what loss is and how we live with it in our lives:
Loss and grief relate to many more things than bereavement. Loss is individual and personal.
Many losses cannot be reclaimed and will have lasting impact.
Pausing has given folk time to re-evaluate many things, encouraging people to be more human again.
We should normalise talking to others when out and about on these types of topics and have conversations with others in common spaces.
Here's what we can do to get alongside folk in the 'great pause' and beyond:
Allow more human behavior in meetings – it doesn't always have to be serious or straight down to business.
Set-up a street library in your neighborhood – or just simply say hello to folk when you're out and about.
Create a bit of cheer wherever you are – organise a silent disco, litter pick or do some street gardening.
Technology and the pandemic: 'People share a lot more on Zoom.'
From the folk we've spoken to over the past few months, one thing has been abundantly clear: our relationship with technology throughout the pandemic is complicated to say the least.
The stories have shown us that our already complicated relationship with technology has become even more complex during COVID-19 as our reliance on it has increased:
Digital connectivity has really been pushed forwards, actually improving accessibility and inclusion for many. We should embrace this.
However, we need better boundaries to prevent technology becoming an intrusion into our home lives, and it can't always be relied on to do everything we can do in the offline world.
Digital isn't always to answer and isn't always good for everyone – issues like digital inclusion still need to be addressed so that access to technology and the Internet is fair.
Perhaps a pause is needed for us to assess how we are using tech use so that balances can be struck.
Here's what we can do to have a better relationship with technology:
Have a bit more fun, silliness and chit chat in online meetings – make sure you are creating a space for this to happen.
Check in on people to see if home working is working for them – taking time to have these conversations makes it easier for people to chat about things that might not be so great that they would otherwise not have shared.
Find other ways to connect with people who aren't online – pick-up the phone, send a text, or knock on their door.
Structural inequalities highlighted by the pandemic: 'I'm really worried about the division.'
Inequalities existed before the COVID-19 pandemic and will continue to exist after it (although we hope to do something about that). However, what the pandemic has done is throw these inequalities into sharp relief for all to see, whether that's racism, ableism, stigmas around homelessness or any other kind of inequality you can think of.
Our conversations with our Camerados have shown us a lot about inequalities:
The pandemic has exacerbated existing inequalities in society. However, it has also shown that some inequalities could be easier to overcome than the system would have us believe.
We should create more opportunities for stories and voices to be heard in forums like the A #BitOfCompany Chat broadcasts.
Trust takes time to build and space must be made for it to do so – when trust is there, real conversations can take place that can lead to change.
Here's what we can do to start breaking down structural inequalities right now:
Chat with folk on the street – take genuine interest in people, find out more about them and mix with people who don't look like you.
Call out injustice when you see it and also talk to others about these issues and be opening to learning from others with different perspectives than yours.
Share A #BitOfCompany Chat episodes 9 and 10 broadcasts and get more people talking about these issues.
Creativity, the outdoors, and COVID-19: 'There's always a way, isn't there?'
One of the themes to emerge from the stories is the way in which folk took responsibility for their own wellness and wellbeing, particularly during the first national lockdowns across the UK back in March 2020.
The stories have taught us a thing or two about wellness and how creativity and outdoor spaces are key to it:
People are using creativity to make events out of everyday things. Creativity needs to be seen and valued from the beginning, not added on to at the end of anything as a nice added extra.
Encourage play, not just in children, as adults it's viewed as a waste of time.
We should re-imagine how we use our outdoor spaces, both private and public, and make sure they are open to everyone.
Technology enables creativity, but we need to balance our use of it so it doesn't become another negative.
Here's what we can do to get the most out of being creative and embracing the great outdoors:
Create space in your day to be creative in whatever you like – even if it is just 10 minutes, it can make a difference to how you are feeling.
Walk – Go on a 'Midday Meander', you don't need a purpose to go on a walk and you might find by doing so you can create connections with other folk you pass on the way.
Share your creativity and interests with others – you could make a playlist and share it with friends, family and folk you work with.