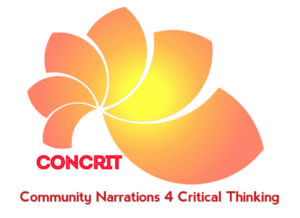 CONCRIT aims to work towards a socially cohesive Europe, which requires self-confident, fully informed and educated
citizens. To support this, the project is investigating the topics of community narration and digital literacies, exploring their role in civic education. Through this research, the project partners will produce learner driven tools, ways to build a community and techniques to de-construct discriminatory stereotypes. The project directly targets adult educators, community workers and volunteers and indirectly targets marginalised communities. 
Our Role
People's Voice Media is leading on the research phase to understand the current context of this work, as well as developing a curriculum for educators in this field. We are working with the partners to design and deliver multifaceted training activities, as well as multiplier events and stakeholder engagement activities.